This article was last updated on the December 9, 2016.
In this article we'll take some time to discuss product validation in X and the benefits that come along with it. You do not need to validate your product in order to continue using it (will simply need to update the theme manually), however doing so will unlock many great features including automatic updates and access to Extensions. Without further ado, let's get down to it!
What is Product Validation?
With regards to X and Cornerstone, product validation is the process by which a user confirms their purchase. Validating your purchase allows us to ensure a couple things:
Registration – We continually strive to provide a superior level of support to all of our customers. Product validation requires registration in the member center, which gives us the opportunity to assist new users if needed via the Knowledge Base, forums, and other resources.
Legitimacy – As outlined in Envato's standard license and our terms, it helps us know that you have purchased a license to use for one website (i.e. one domain).
Sounds Great! So Why Would I Want It?
Product validation doesn't only ensure that we're assisting verified customers, it also unlocks goodies such as Automatic Updates. In X, you'll also receive the ability to install our Extensions in your dashboard. In Cornerstone, you'll receive access to our premium templates.
I'm Sold, How Do I Set It Up?
For X and Cornerstone, validation is a simple guided process. There's only a few steps you need to follow to get everything in order. We'll walk you through validating your site, then introduce you to the licenses page for future management.
Our product validation is built around the purchase codes provided by Envato when you buy a license. If you are unsure of how to locate your purchase code, this graphic will show you.
With the purchase code in-hand, and X (or Cornerstone) installed, head over to the home page of the product you're validating.
For X, go to X Addons → Home
For Cornerstone, go to Cornerstone → Home
You will be greeted by the unvalidated home page, with a "You're almost finished!" message.
Input your purchase code, hit enter, and watch the validator go to work. It will interact remotely with own community site to automatically associate your site with that license within your Themeco account.
When the code is a brand new. You will be guided through logging into an existing account, or registering a new one.
If you're already logged in, it will confirm with you before proceeding to use that account. This step involves being redirected to our community site, and returned to your dashboard when the account is setup.
If you were to enter an existing purchase code, the validator will check if your site is already assigned, or suggest what to do next. Here are some scenarios that could result of entering an existing code:
The code is verified in your Themeco account, and assigned to your site. This is already setup for all your existing sites via the old API key method, and will continue working.
The code exists in your Themeco account, but doesn't have a site assigned. The site you are validating will automatically be assigned.
The code is verified in your Themeco account, but doesn't match your site. You'll be notified, and given a link to your licenses page to take a closer look.
If you're validating X, remember that you don't need to validate Cornerstone, as it is considered validated already.
What About Extension Licensing?
Each X license purchase includes a copy of all of our Extensions for your optional use on one site. These are a combination of tools we have developed in-house and 3rd party plugins. We fully support each Extension as well as provide updates as they are available. Each of the 3rd party plugins are available for purchase directly from the makers of those tools only if you want direct support from the product creators or access to premium resources they may make available to their customers (your X purchase code will not allow you to register for support from the creator of the plugin). Keep in mind you are not required to purchase a license as the tool is provided with your purchase and supported by Themeco.
Managing Licenses
Although your site may already be validated, we provide an interface for licenses management. You can reach this page by clicking on the Account button in the upper right corner of the site:

Next, look for the Licenses section and click the Manage Licenses button within: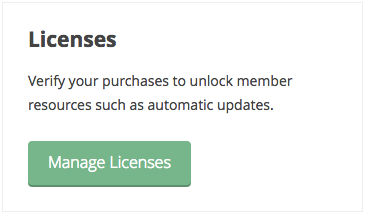 Overview
Upon reaching the licenses page, you'll see a table of licenses – each row depicting a license, along with what product is is for, and details on any site(s) assigned to it.
Verifying a new purchase
You can use the "Verify New Purchase" form to associate additional Envato Purchase codes with your account. This is optional, and useful if you want to verify licenses before they are used, but not required as licenses will be automatically verified when you enter them through the validation form in your WordPress dashboard.
Assigning a site
Once again, this is automatically performed through the validation process described earlier, but you can manually create an assignment of a license to a site by clicking "Assign Site" and entering the Site URL. This should be identical to the Site URL field found under Settings → General of your WordPress dashboard.
1. Click
2. Enter your Site URL and press enter This should be the same value found in the Site URL field of Settings → General in your WordPress dashboard.
3. Your site URL will now be assigned to the license.
Un-assigning a site
On occasion you may need to move a site to another URL. You can do this by un-assigning the site. Click the × next to a URL assignment. You will be asked to confirm. Remember this will make the site unvalidated, so it's not advisable unless you are in the process of changing domains.
Using Development Environments
When a site is assigned to a license, you will see the ability to add a Development Environment. Technically speaking, this works exactly the same as production validation to ensure predictability between environments. They can be assigned and un-assigned in the same manor as production sites, described above.
Development environments require that a production environment URL already be assigned. Revoking the production site will also remove the development site.
It's important to note this does not change Envato's license terms, and you will still need a license for each production site. We do have ways of monitoring for abuse, and if licenses are used outside of this it would be a violation of their terms of use and ours.
Cool, Now What Can I Expect?
As updates become available through future releases, you will now be automatically notified through them via the WordPress admin area. This can take up to 12 hours due to WordPress' built-in update schedule. If you are aware that an update is out but haven't seen anything for a while, you can go to Dashboard → Updates and select the Check Again button to force WordPress to look for any available updates. Even if you do not have product validation in place, you will still be notified of available updates in an effort to inform our users of when their theme is out of date and that they should update; however, you will not be able to have access to these updates automatically and will instead have to update your theme manually. If your product is validated, instead of simply being notified, you will be able to update your Themeco products and Extensions via the admin interface similarly to how themes and plugins from the WordPress repository are updated.