How to Launch a Membership Site with the X Theme
In today's Customer Spotlight, you're in for a treat as you get to hear from the wonderful team over at Foodwifery about how they launched their membership site with X. After talking with Jered about how X helped them successfully launch their latest business, we knew that the insights he shared would be important to many of our customers, and he graciously agreed to peel the curtain back on their entire process. Take it away, Jered!
---
I'll cut to the chase: If you're serious about launching your own membership site, I'm going to show you step-by-step how I used the X Theme (and a few easy-to-use WordPress plugins) to launch a fully-functional membership site.
Even though it took me a few weeks to get everything just right, you can probably cut-and-paste this setup and have your membership site up and running in a few days. So, let's get to it.
The project that I'm working on is called Foodwifery. It's about real, whole, traditional foods that are prepared for optimal digestion, and served in a spirit of gratitude and peace.
It's a project that's close to my heart because the team that I work with actually helped me to overcome years of digestive and neurological symptoms simply by eating real food in a spirit of peace.
Laurie and Jamie have been teaching traditional cooking classes locally for years, helping families transform their tables and find healing.
They were looking for a way to bring their classes to a broader audience, a way to spread the principles of traditional, healing foods, and a way to bring families back together around delicious food prepared and served with love.
The question was, 'What's the easiest and most effective way to accomplish all that?'
 Answer: membership site.
Step 1: Design Your Site with X Theme
As with any new WordPress based project, we needed a theme to get us started. I stumbled upon X Theme while browsing through ThemeForest, and was immediately captivated by all of the design possibilities, and was impressed by the extensive list of marketing and content shortcodes.
I knew X was our theme.
We started with a very basic, minimalist, monochromatic design using the X Theme and Integrity stack—basically something to get us going.
It looked great, but it was cold and sterile and too "business-like." We needed something more welcoming to make people feel at home.
The mission was to "warm it up" and make it reflect the spirit of the project. The other issue was timing: Our first product launch was less than 2 weeks away, and we needed a beautiful, functional website, pronto.
Using the exact same X theme, the exact same Integrity stack, we took the site from "lets-do-business" to "welcome to our home," and came up with a beautiful design in less than a day.
My word of advice: Don't make things complicated. Start right where you're at with whatever you've got. When it comes to design, X is powerful fresh off the install. Using the Customize page, you can adjust the settings to get your site to reflect exactly what you want.
When it comes to pages for your membership site, start with the basics: Home, Blog, About, Contact. Make sure these 4 pages reflect who you are and what you're about. But don't stress over it. At this stage, being present is more important than being perfect.
Step 2: Enhance X Theme Functionality with Plugins
There are a million different combinations of plugins to enhance your site, but really just a handful are necessary. Here are the main 3 we use for the Foodwifery Membership site:
PilotPress – A plugin from Ontraport that allows you to set permissions for what content users can see. This requires an Ontraport account (which will run you $297 a month for the Pro package). The huge benefit to this is that Ontraport also takes care of our payment processing, e-mails, customer relationship management, and more. It streamlines all of our marketing processes, and keeps everything simple. And, it integrates flawlessly with X theme. 

For the developer on a budget, or for a hobby membership site, S2 Member is a free plugin that can protect your content, and take care of payment processing integration.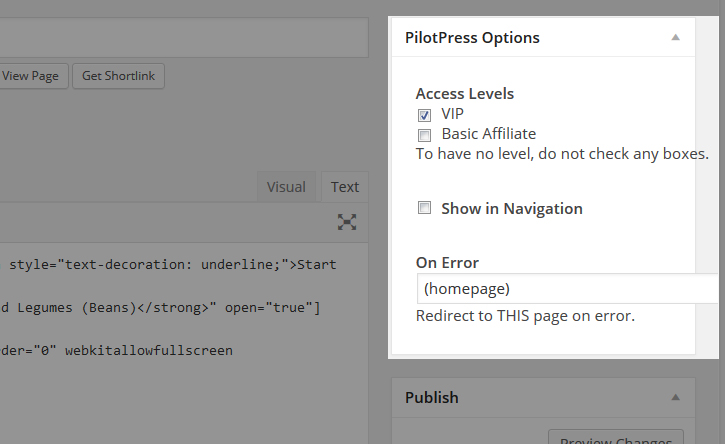 Theme My Login – Theme My Login is a free plugin that themes the WordPress login, registration and forgot password pages according to your theme. Basically, it automatically creates a login page that matches the X Theme. Just add the login page to your main menu to give users quick access to login. (Hint: Use the X column shortcode feature to create a second column to invite non-members to join your site)
Custom Sidebars – Free plugin that allows you to create widgetized areas and custom sidebars. Replace whole sidebars or single widgets for specific posts and pages. We use this to create a custom sidebar for the members area of the site. All members-only content has the same member sidebar.

Really, that's it. You don't have to make it complicated. For your membership site, you only need a way to protect content, a page for your members to login, and a way to create custom sidebars for your members area. You can do this with many different plugins, and I'm just providing the 3 plugins that we used.
Here's the full list of every other plugin that we use to run our site (in case you were wondering):
Step 3: Using X Shortcodes to Create The Ultimate Member Experience
If you get nothing else from this article, get this: The accordion shortcode is your best friend.
The main complaint with other membership sites in the real food space, or any membership site for that matter, is that there is so much content that it's overwhelming.
When a user logs in, if they see pages of content a mile long, or an instructional video that's a half hour or longer, you're probably going to lose a lot of people. It's intimidating.
The key to a successful membership presentation is this: break it up into easy-to-digest, bite-sized chunks.
The accordion shortcode does just that. For us, each accordion tab contains a short 3-5 minute instructional video (which we host through Vimeo Pro), followed by a quick text explanation and followup of the concept. This allows us to break each part of the cooking process into easy-to-follow individual steps.
Here's the secret as to why this is so powerful: Members can learn the process one easy step at a time. They learn to master each step first (by watching the short video over and over, if needed) before moving on to the next step.
When they return to the page, they can easily sort through the accordion topics to find where they left off, or where they're stuck, and pick up from there.
And, the same holds true for novice or advanced cooks. They can see at a glance what information is most important to them. The accordion shortcode makes it easy for members to find exactly what they're looking for.
It fits our philosophy of, 'One step at a time. Bloom where you're planted.'
Step 4: Designing Your Sales Page With X Shortcodes
As we prepared for our initial launch, timing was of the essence. I had roughly a day to design the entire sales page – including the sales copy – to keep on schedule.
For the sales copy, we kept it simple: tell them what we have, what it will do for them, and give them an opportunity to join.
For the design, the entire sales page was put together using a combination of 5 X Shortcodes: Content Band, Container, Columns, X Video Embeds, and Buttons.
The columns shortcode allows us to showcase our membership modules in a way that reflects the tone of the project.
The buttons shortcode provides an eye-catching opportunity for visitors to join.
As far as conversion rates go, 1 out of every 12 people that visited this sales page signed up to become a member.
Step 5: Be Useful and Create a Sense of Community
Let's face it: If your membership site is going to succeed, you've got to provide amazing content on a regular basis to keep people inspired to stay on board.
Part of delivering amazing content is being incredibly passionate about your mission. At Foodwifery, we're passionate about helping people transform their lives through food. Everything we do is geared toward helping people see results. And, we use very specific tools that integrate well with X Theme to accomplish that goal.
Here's the 3 main ways we connect with our ongoing members to be useful and create a sense of community:
Monthly Ask-Us-Anything Webinars – Every month we give members access to ask Laurie and Jamie any question they want, and the ladies answer each question on a live webinar. To accomplish this, we use a combination of Google Hangouts and WordPress Chat.
We simply insert the embed code of our Google Hangout on our Webinars Page, followed by the Wordpress Chat shortcode.
When it's time for a live webinar, members simply sign in and watch, and participate in the chat room. It integrates perfectly with the X Theme. When we're done, we archive all webinars using the X accordion shortcode.
Foodwifery Kitchen Radio – Foodwifery Kitchen Radio is an audio class, a time when we invite members to join us to talk in-depth about topics related to a healing table. It's informative, yet casual. A time of help and a time of laughter.
To accomplish this, we host our files privately through SoundCloud. The SoundCloud embed codes work seamlessly with X.
Member Forums – Simple:Press Forums integrate beautifully with X theme, and allow us a way for members to connect and share with each other.
We simply protect the main Forum page with our PilotPress plugin content restriction, and all forum posts are protected and can only be seen by logged-in members. Over half of all Foodwifery members engage with us or visit the site on a daily basis.
---
A final word…
If you're serious about developing a membership site, now is the best time to do it. With the X theme and a few easy-to-use WordPress plugins, you can have your membership site up and running and begin delivering amazing value to your new members within days.
A strong word of advice: if you want your membership site to be successful, make sure that what you're delivering serves a need in the marketplace. Make sure your heart is in the right place and that you truly want to help people.
If you really want to hit it out of the park, surround yourself with an amazing team of people that share your core values. If you're interested in growing, think team sport. Connect with people that are as passionate about your mission as you are. Work together to bring value to your members.
And of course if you want to do extraordinarily well it helps to nourish your body with real food—and to consume each meal in gratitude and peace.
To your success,
Jered
---
Thank-you Jered for such practical, step-by-step instructions on how you created a membership site with X and for sharing your personal journey along the way. It is clear to all that your passion for the topic in addition to working with your incredible team have helped Foodwifery to have a successful launch, and we are thrilled to be along for the ride! We strongly encourage everyone to visit Foodwifery (using the Integrity Stack in X) to see all of this passion and education in action. If you are a customer of our and are interested in participating in a future Customer Spotlight, we'd love to hear from you.
Update: Jered has created an entire free course for X Theme customers on building membership sites with X and in an epic stroke of #inception he used X to power his membership site about building membership sites with X. Whoa.