An Easy Way to Deploy WordPress Websites on Cloud Servers
Cloudways is a managed cloud hosting platform for freelancers, designers, developers, bloggers, creative agencies and ecommerce stores. It allows users to deploy, monitor and manage high-performance websites and applications on scalable cloud infrastructure providers. The platform offers industry-leading page load time because of the ThunderStack, Cloudways' home-brewed stack that ensures optimized performance for all WordPress sites.
The recent partnership between Cloudways and Themeco happened mainly due to shared ideas of simplicity and ease-of-use. Cloudways allows its users to launch their WordPress powered applications on top-tier cloud infrastructure providers including Amazon Web Services, Google Compute Engine, DigitalOcean, Vultr, Linode, and Kyup. In the same spirit, Themco's products ensure that people could create powerful websites easily.
Themeco's Clients Can Get 10% Discount on Cloudways for 12 Months: Promo Code: THEMECO
The Cloudways Experience
Cloudways simplifies the process of hosting WordPress websites, allowing the users to focus on their businesses process rather than worrying about the server and hosting related issues.
The core idea is to present the best possible user experience to WordPress users. We realize that WordPress has a diverse user base that has people of all skill levels. By ensuring that all major actions are available in minimum number of clicks, Cloudways offers an ideal platform for all WordPress, WooCommerce, and Multisite users.
What Makes Different Cloudways?
Cloudways provides comprehensive support for users looking for hosting new WordPress sites or migrating existing websites from other hosting to Cloudways without major hassles (in fact, Cloudways offers a great WordPress migrator plugin for the job). Similarly, all major features such as pointing the domain, server scaling and cloning, adding an SSL certificate, enabling and disabling services are all available for free. For team-based projects, Cloudways offers a robust Team Collaboration feature that ensures that all team members have appropriate access to the project.
Launch Cloud Server on 1-Click: What makes Cloudways platform unique is the choice and transparency it offers when selecting your cloud server. One can select from the most reliable, cost effective, and secure cloud infrastructure providers. It has never been this easy to launch WordPress on top of cloud servers with dedicated resources and IP address and just under a few minutes.
To top it all off, Cloudways has a unique optimization stack on all their servers. With NGINX, Varnish, PHP-FPM, PHP 7 and much more. Ensuring high performing WordPress sites even on smaller servers.
Freedom to Choose Multiple IaaS and Data Centers: It is an established fact that the location of the server hosting the website has an important role in determining the page load speed for the users. Realizing this, Cloudways offers the choice of six top-tier IaaS providers and 45+ global data centers all over the world. This means that the Cloudways' users could make sure that their WordPress websites offer the best user experience to the visitors.
CloudwaysCDN—A Powerful Solution for Global Reach: Cloudways offers its own CDN solution that is optimized for WordPress sites. Dubbed as CloudwaysCDN, this solution is very effective and works great with all WordPress websites hosted on Cloudways Platform. In just a dollar a month, Cloudways users could enjoy very fast page load time and a secure global reach for their WordPress websites.
Breeze—Free WordPress Cache Plugin: Cache management is an important WordPress optimization hack. This is why Cloudways has recently introduced a free WordPress cache plugin, known as Breeze. The plugin is thoroughly tested to work with the Cloudways Platform, and thus provide a seamless speed for the WordPress websites hosted on Cloudways. In addition, Breeze is essential for integrating CloudwaysCDN.
Server Scaling, Cloning, and Other Features: WordPress websites go down because of the lack of server resources. This is a common enough scenario when the websites are hosted on shared (or some dedicated) hosting.
Cloudways offers server vertical scaling option, one can use it to increase serer size if the website experiences sudden spikes in traffic.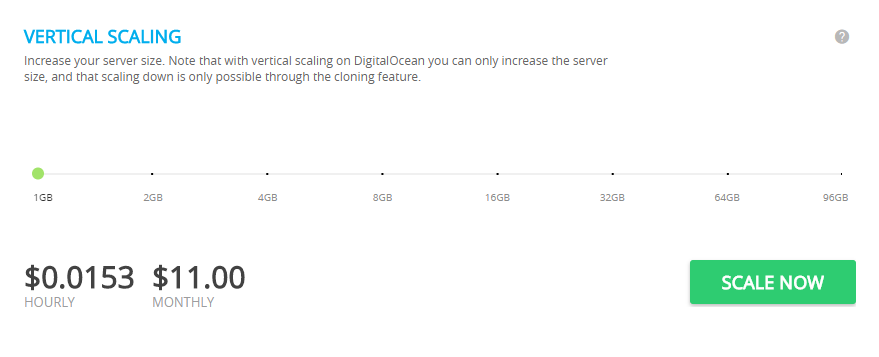 Having a sale on your store? Or your post(s) has gone viral? Cloudways has you covered—just scale up the server if you run low on resources.
Cloning websites is a hassle. There is always a chance that you could miss out important folders and file. To help out the users, Cloudways offers a 1-Click cloning option that ensures complete and error-free website replication.
WordPress website owners and developers need to test a lot of themes and plugins. Cloudways offers a seamless method for testing new plugins and themes without affecting the live website. All users have access to unlimited staging areas where they could experiment with new plugins and themes in a separate sandboxed environment.
CloudwaysBot is your intelligent assistant that offers real-time server and application health information through predetermined channels. This way, the users could have an (almost) instant idea of the performance situation of their servers.
Cloudways offers automated backups that ensure that a copy of your data is maintained at a secure offsite location. The best part is that you could set the frequency of the backup (the minimum is an hour) at your convenience. In addition, you could take manual backups of your apps anytime.
24/7 Expert Support and Cloudways Community Forum
There is so much that could go wrong with a WordPress hosting provider. In such cases, you need support by real experts who understand the servers and the application and could guide you in the right direction.
Cloudways ensures that all users have access to help in the form of 24x7 support by real cloud experts who understand the intricacies of a WordPress hosting. Unlike some providers, Cloudways Support is available throughout the week, even during Holiday Season. You could either initiate a Live Chat session or open a ticket to get help!
If you wish to get expert advice from Cloudways representatives and clients, then you can also join their helpful Cloudways Community Forum.
To Sum Up
Cloudways offers a great cloud hosting platform for WordPress websites. All features are aimed at providing a smooth experience that takes care of all the hosting related hassles. If you have a WordPress website, Cloudways is there to take care of all hosting issues, so that you could concentrate on growing your business without worrying about slow (or worse down) websites.