Do you know what companies like Apple (tech), Netflix (streaming), Solana (crypto), and Twitch (gaming) all have in common?
It's not their near infinite web design budgets or the billions they sell through their websites.
No, they are ALL forward thinking technology companies and they ALL use CSS Grid.
And they don't just use it because it's "pretty" or the latest fad—they use it because it allows them to creatively engage their visitors and turn those visitors into leads and customers.
CSS Grid is a true powerhouse of a technology. It allows you to build those impossible looking layouts that seem to defy gravity.
It is a stealth weapon of the biggest brands and top-tier designers. There's just one rather significant problem. Most people who build or manage websites don't know how it works and many have never even heard of it!
We want to change that because we believe...
If billion & trillion dollar companies are using CSS Grid on their websites, you can as well!
(And we can show you how).
CSS Grid is so forward thinking and so incredibly powerful that the sites and layouts and heck, even the clients of tomorrow will be demanding it to stay relevant. You really don't have a choice.
This got us thinking...
What if there was one place you could go that taught everything you need to know about CSS Grid...from the ground up...so you or your team can go from zero to hero in as little as a day?
And what if you were given some of the best examples of CSS Grid on the market today. Yes, given! Designs you could use right away on personal or client sites.
And imagine, if in addition to all of that—we created a powerful visual editor that lets you customize those CSS Grid layouts (or build your own) without having to mess with any fussy code?
Well that would be pretty darn awesome!
From training to templates and from tech to tools, Gridorama has everything you need to start using CSS Grid like the big boys.
And it doesn't matter whether you're a one-man band or a large web agency—a new beginner or a seasoned pro. Gridorama will take you by the hand and teach you everything you need to know.
Tired of all your layouts looking the same?

Looking to broaden your design portfolio?

Want to attract higher value clients?
Gridorama is the answer! Join us for a quick tour of all that we have in store for you.
Sometimes the best way to learn is to start with the end in mind. This is certainly true in the design world, and this is even more true when learning something like CSS Grid.
In light of this, we've put together an amazing collection of tantalizing templates to help you both learn and use CSS Grid...the right way.
From sections to sliders, many of these designs are inspired from leading brands...those billion and trillion dollar companies who are constantly testing engagement and conversion and who keep their websites on the cutting edge of what is possible.
We not only give you the layouts, we're going to teach you how they were put together then let you use them as you see fit...all built into our visual grid editor! Check out just a few of our favorites.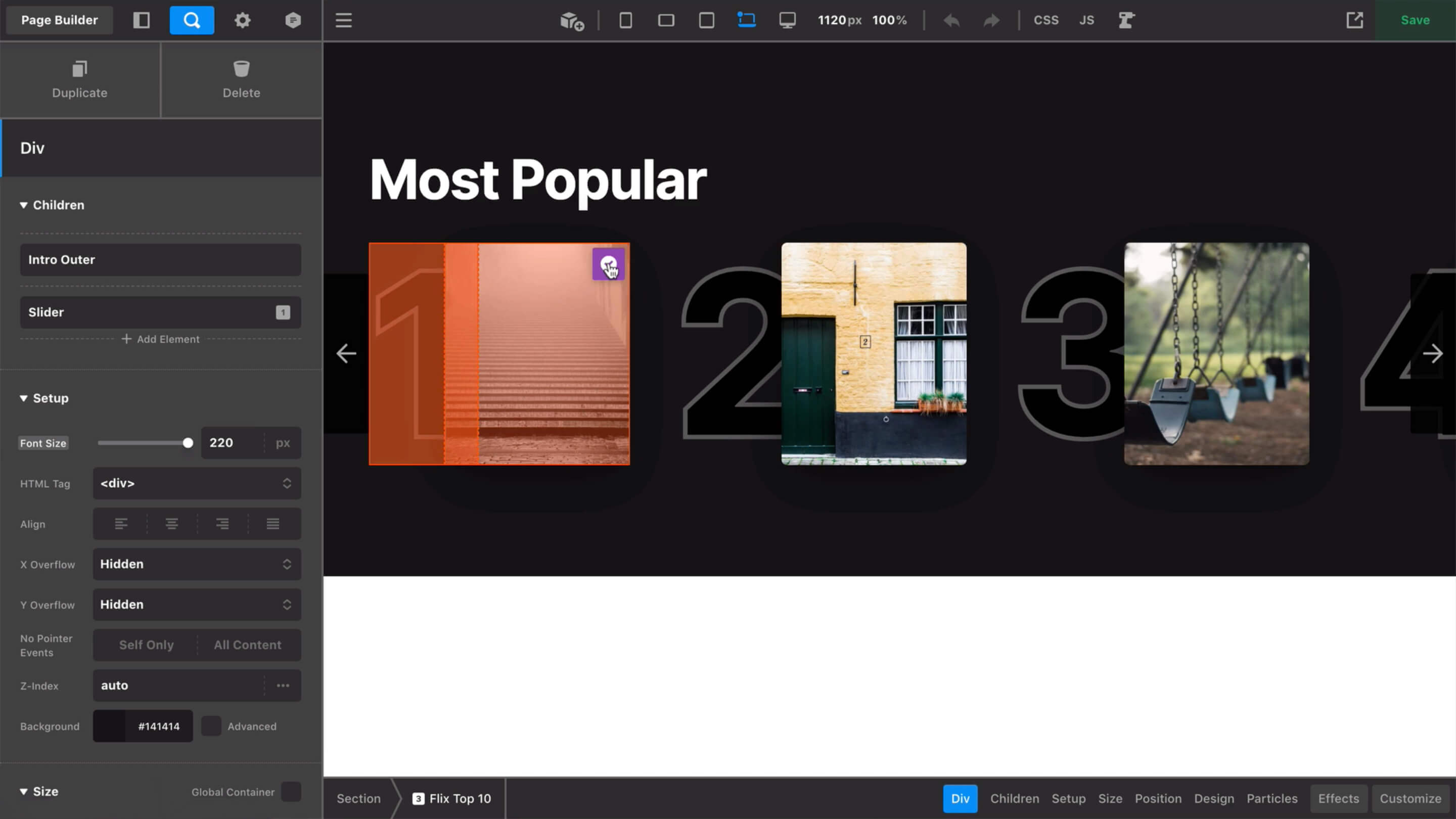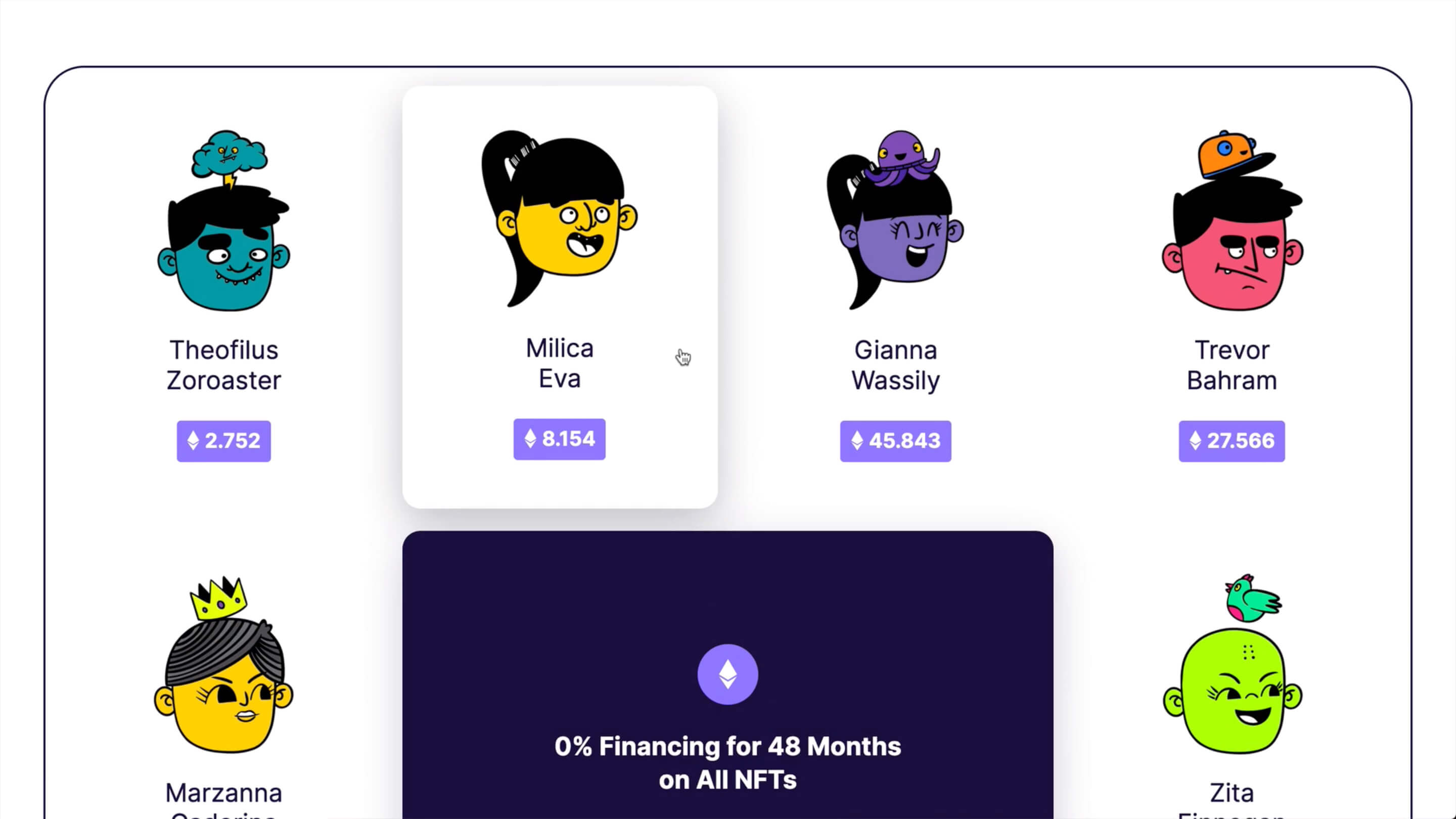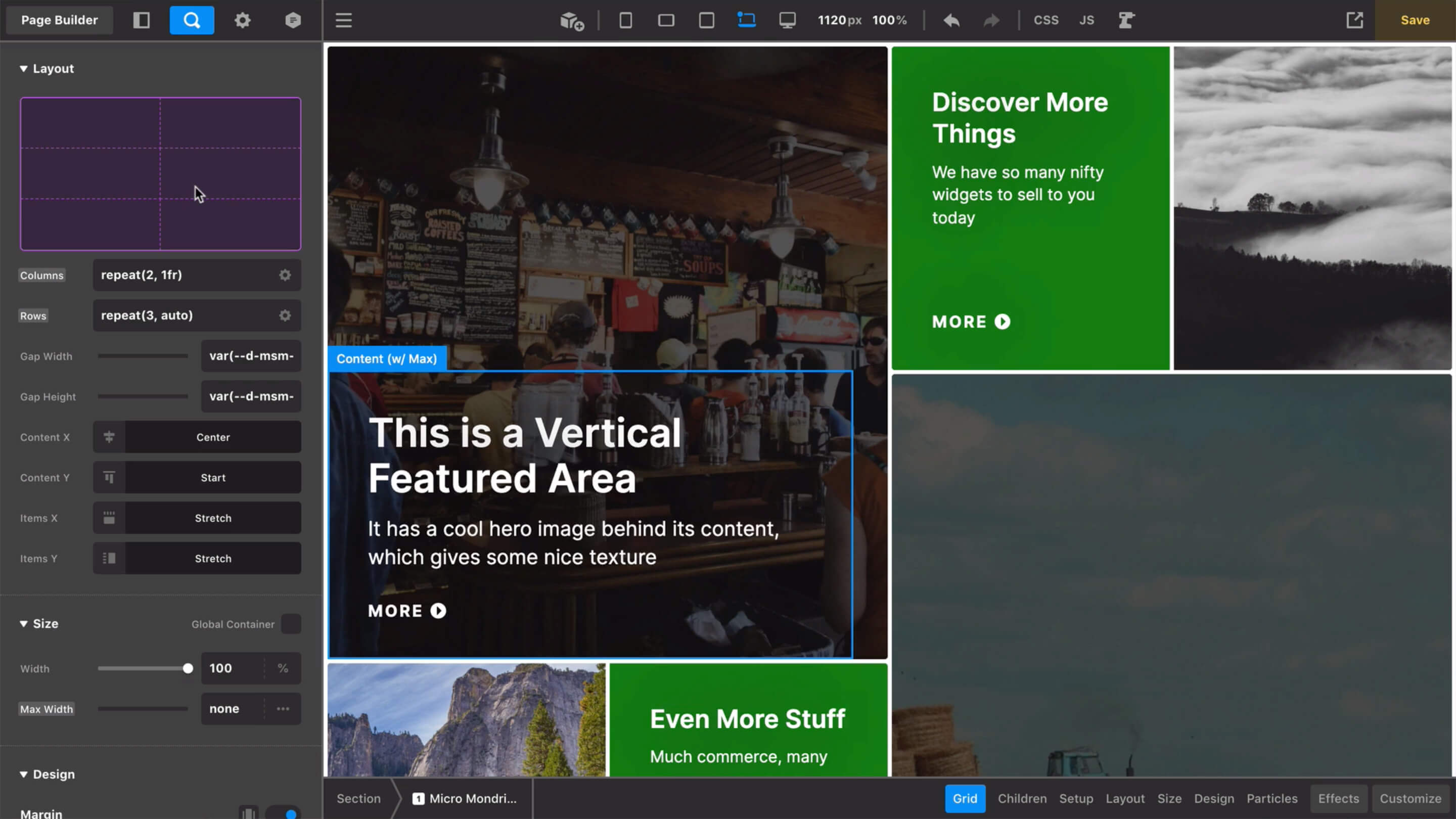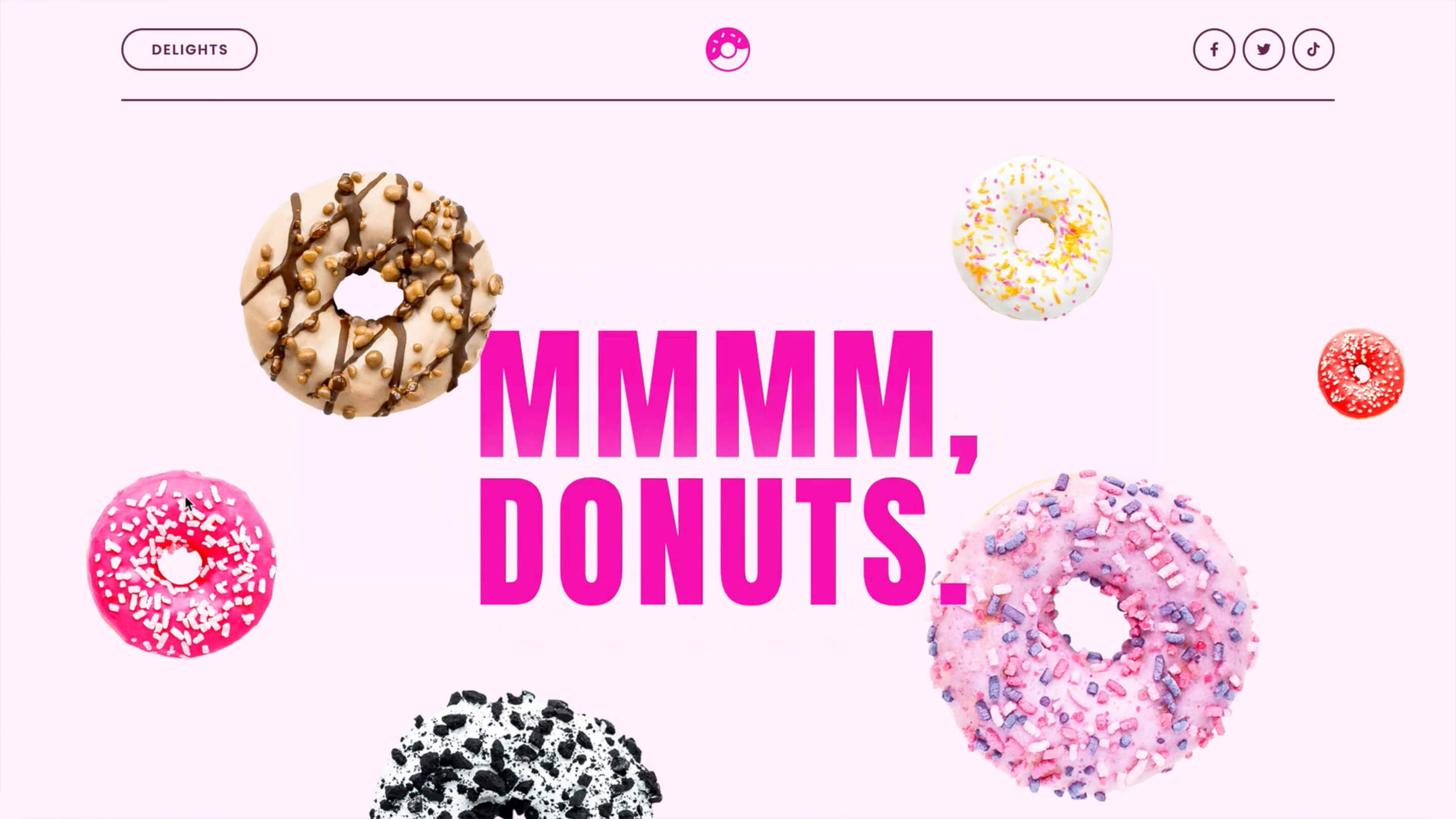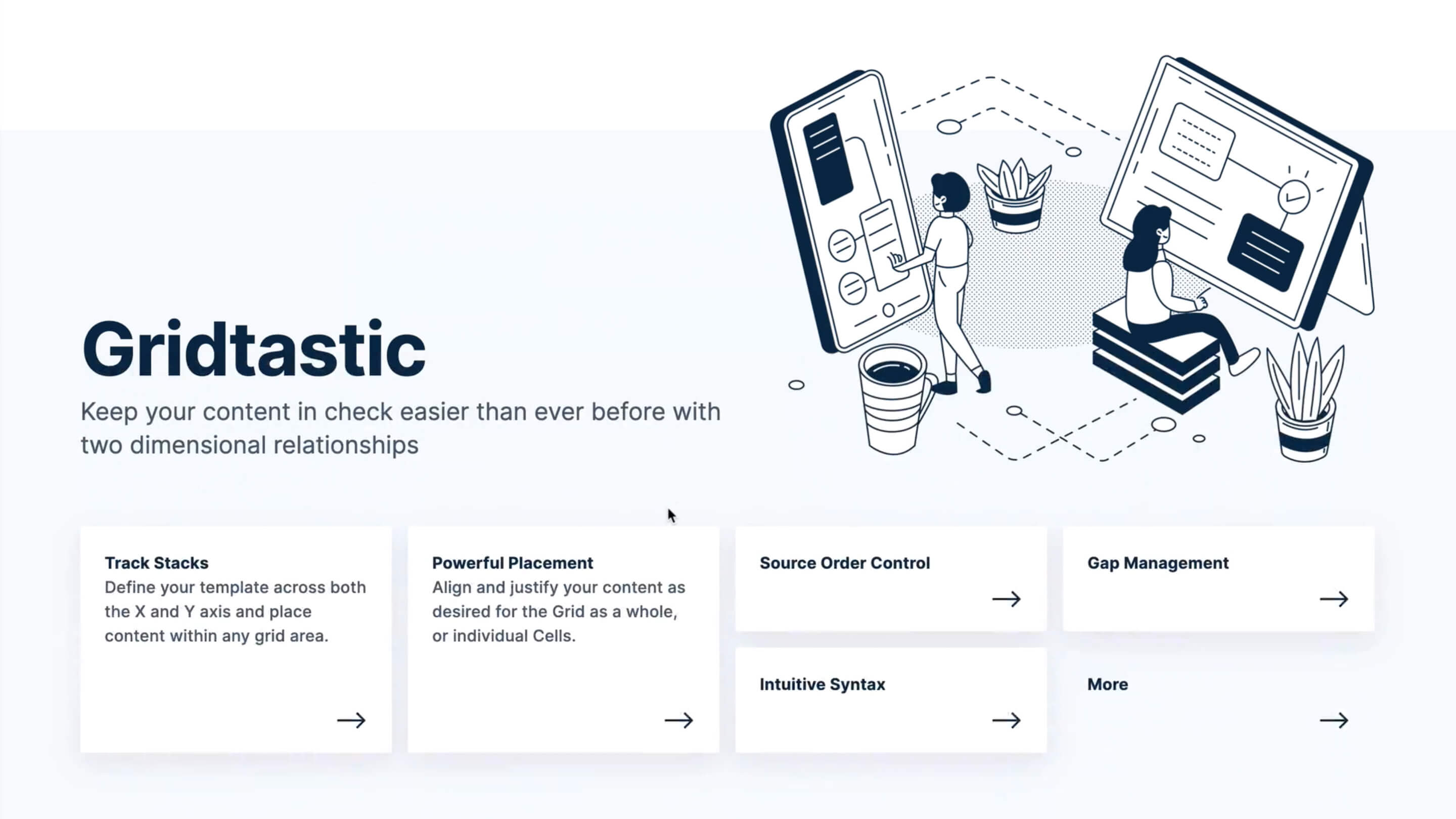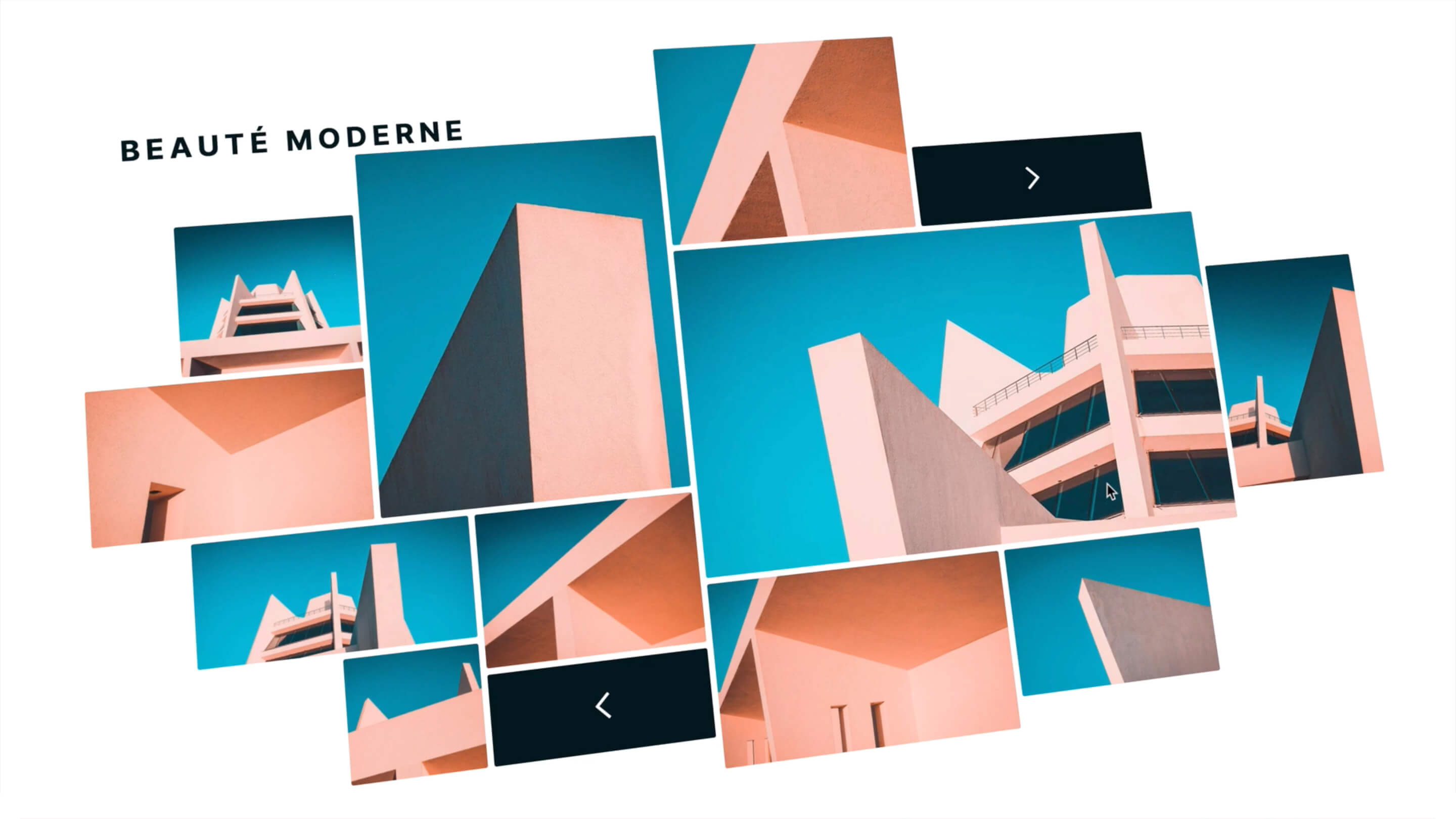 We want CSS Grid to be simple and approachable for all skill levels. These ready-made designs will supercharge your Grid journey with an incredible collection of assets!
To know Grid is to love Grid, but to know Grid...you first need to know Grid!
And that's why we've put together the most comprehensive course about CSS Grid on the market today.
You will not only learn the ins and outs to this powerful layout engine, we'll teach you how to incorporate it into designs starting today!
As a matter of fact, your guide for this journey is none other than our very own Kory Wakefield—Themeco's lead developer extraordinaire.
Kory is a top expert on all things CSS Grid and has been on the cutting edge of this technology from the very beginning. Follow along as Kory teaches you about:
Building Your First Template

Alignment & Justification

Thinking in Two Dimensions
And those are just the high level topics! Look at some of the actual things you'll learn how to do. Remember, this is just a small sample.
Implement "artificial intelligence" grids in your designs that can adapt to layouts without responsive styling.

Learn how to create organic grid canvases by sizing row tracks intrinsically based off the Elements in your layout.

Discover how section transitions are your new best friend and can be very, very forgiving when you need it the most.

See how you can break CSS Grid out of the box to create some truly advanced layouts.

Learn how to create densely packed grids using an example from a big time eCommerce player (and get the template to boot).

Leverage the auto keyword in unique and out-of-the-box ways that can unlock all sorts of layout potential.

Combine grids with creative interaction and scroll effects to create unique experiences for your users.

See how CSS Grid can be used in unlikely places like background designs, megamenus, sliders, and more.

Unlock the power of source order independence with CSS Grid to create layouts that break out of their natural flow.
Sold! How Do I Get Started?
New Themeco customer? The visual grid editor is included for free with every Pro Theme purchase. Get Pro + Gridorama and save even more!
Q: Who should buy Gridorama?
A: If you build or manage websites in any way, Gridorama is for you!
Q: Do I need to know coding?
A: Having some background will certainly help, but we start you from the ground up. Gridorama is great for beginners and will help professionals level up their skills.
Q: Can I use this outside of WordPress?
A: Yes! The first half of the course is teaching and explaining how the CSS Grid spec works. This can be used on any platform from Shopify to Squarespace and from WordPress to Wix. It can also be used if you write your own HTML / CSS. The second half of the course and templates use our Cornerstone Website Builder. We focus the training and application on this part specifically to WordPress.
Q: How do I access the visual Grid editor?
A: This is built into Cornerstone for our Pro Theme users, so if you have Pro you are good to go. You'll simply need to purchase Gridorama for access to the training and templates. If you do NOT already own Pro, we have a special bundle available that includes Gridorama + Pro for everything you need!